With the new Galaxy Tab S6 Lite Review, Samsung has created an efficient, no-frills tablet at a reasonable price point.
Galaxy Tab S6 Lite Review – A Reasonable And Effective Choice?
Galaxy Tab S6 Lite. New Generation S Pen. Elevate Performance. Ultimate Entertainment
Galaxy Tab S6 Lite Review owns a slim and light monolithic metal design with an impressive 10.4 inch Full HD + screen, One UI 2 Android interface and the new generation S Pen, allowing you to take notes easily and conveniently.
The Ultimate New Generation S Pen – Performance
Experience the ultimate note-taking convenience built right into the highly responsive innovative S Pen. Newly improved S Pen design with the size of a real pen and an ultra-thin tip of only 0.7mm for flexible writing, increasing user comfort.
Effective and Easy Note-taking
Galaxy Tab S6 Lite has a Handwriting-to-Text Conversion function ideal for taking notes. Smart Search with handwriting, hashtags, and text block highlighting is convenient for efficient document review and editing. In addition, the Samsung Notes app allows you to enlarge your notes with up to 300% zoom and save the file in a variety of PDF, JPEG or Microsoft Word formats, ready for any use.
Optimizing Time With Bullet Journals And Tablets
Organize your life and improve your productivity with tips from Amanda Rach Lee – the "master" of the Bullet Journal method.
Enjoy Entertainment With Powerful Hardware
Galaxy Tab S6 Lite owns a large 10.4-inch screen, stylish thin and light design with brilliant and sharp display, providing an immersive and realistic movie viewing experience. Along with owning a large battery capacity of 7,040 mAh allowing up to 13 hours of video playback, and 15W fast charging mode for prolonged and uninterrupted work and entertainment.
Impressive, Powerful Performance
Outstanding performance with 8-core processor, 4GB RAM and 64GB ROM internal memory for a smooth experience in work and play.
Trendy Design And Modern Colors
Feel the incredible thinness of the Galaxy Tab S6 Lite with its seamless metal unibody construction. Easy to hold, take it with you at all times thanks to its minimalist, highly portable design. Choose a youthful, striking color Gray or Blue to suit your own style.
Affirm Your Style With Fashionable Leather Covers
Take your Galaxy Tab S6 Lite to the next level with a stylish and convenient leather case. Easy to put on and take off the holster at any time thanks to its folding and magnetic grip. Optimal protection and loss of S Pen with magnetic design and convenient storage right on the holster.
Easy Data Sharing Without Wi-Fi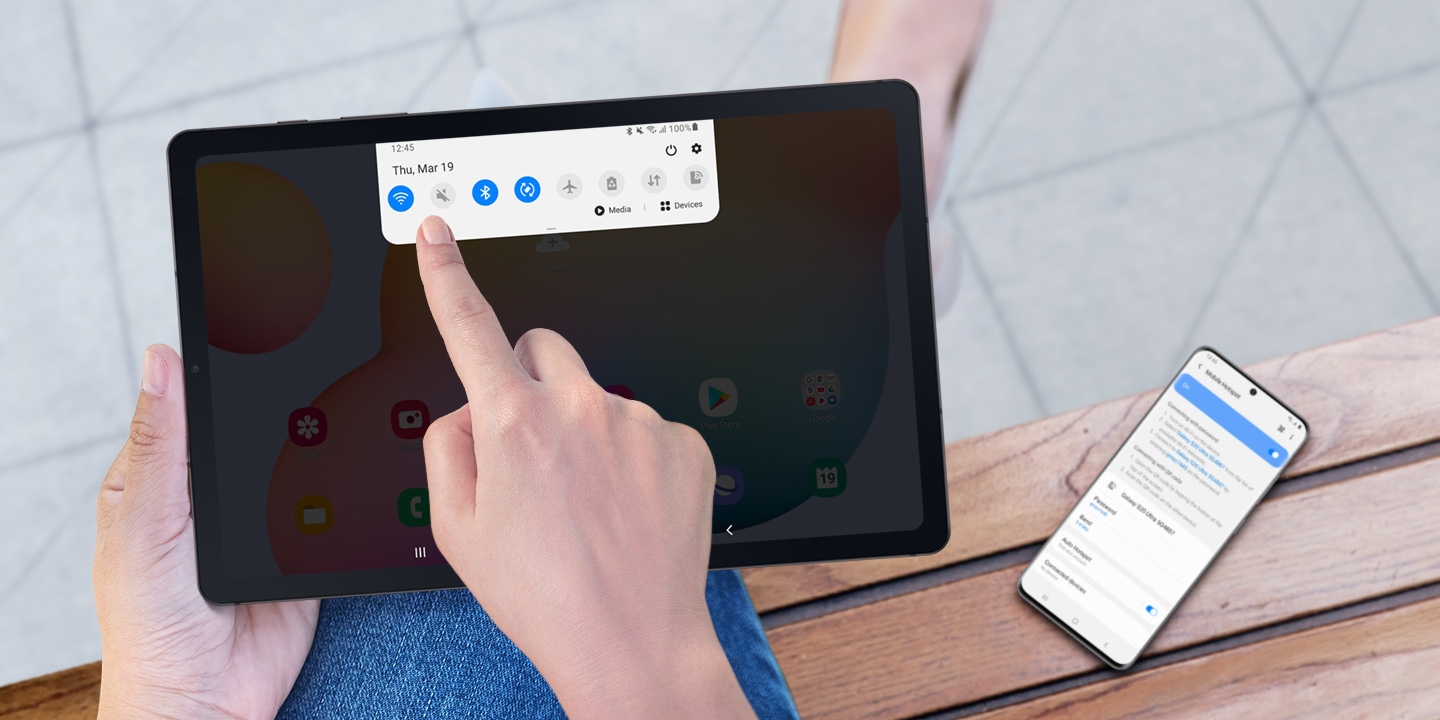 Share mobile data easily with the convenient Auto Hotspot feature. When you're out of Wi-Fi, simply connect your Galaxy phone to your tablet to start sharing right away, without having to go through settings, searches or passwords.
Perfect Synchronization With Phone
Simply tap the icon on the Quick Panel to seamlessly sync your Galaxy Tab S6 Lite with your Galaxy phone. As a result, you limit missing important calls, quickly respond to messages when needed, and always capture information in a timely manner.
Samsung Knox Security
Keep important personal data safe from malware attacks with multi-layered protection and ultimate hardware support from Samsung Knox.
One UI 2 Easy To Use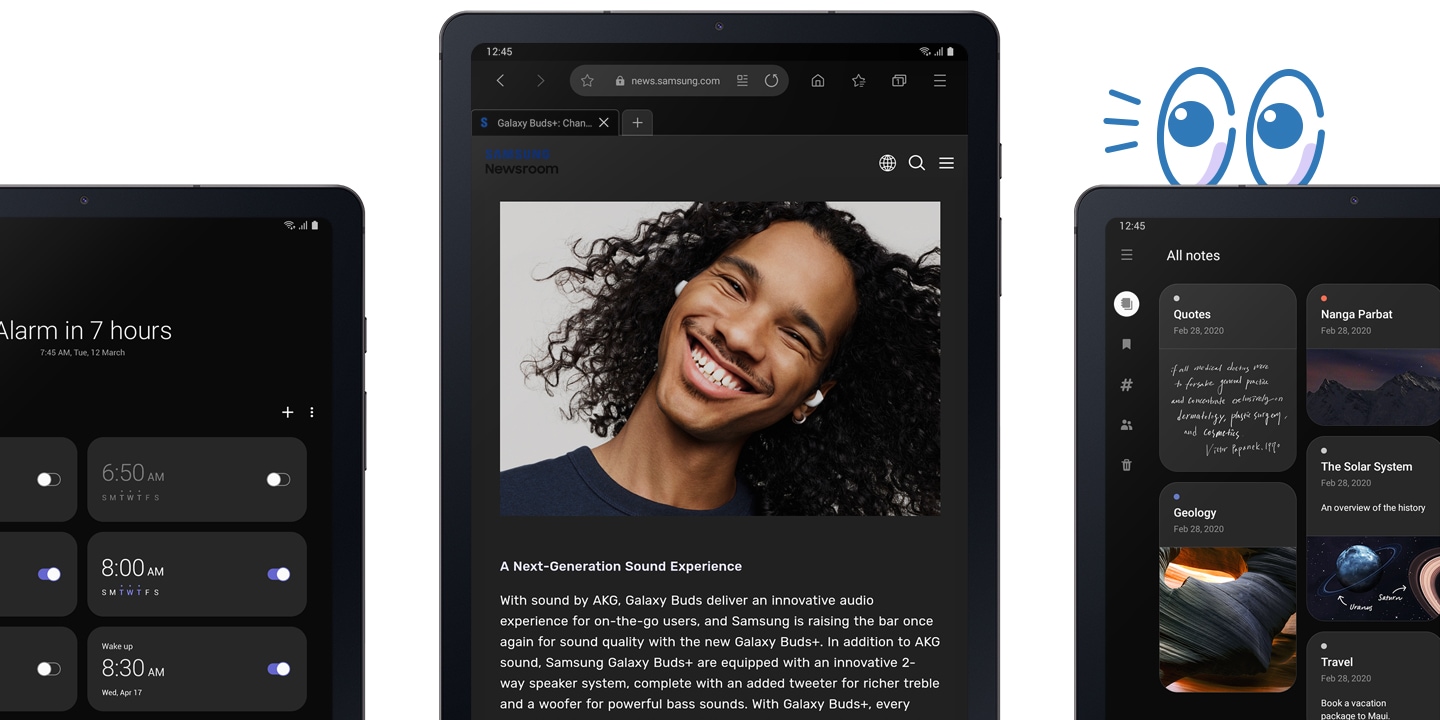 Optimal Protection for Your Eyes
Minimize eye strain during long-term use with Dark Mode from the advanced One UI 2 interface. Turn on Dark Mode to optimize battery life, perfectly prolonging every experience.
Perfect User Experience
Experience a whole new way of communicating with One UI 2 on Android.
Sound Quality Improvement
Discover Galaxy Buds – Redefining the perfect sound. One UI 2 allows you to customize audio features such as Ambient Sound mode up and down, thereby helping you customize and optimize your listening experience according to your favorite sound quality.
Visibility Improvements
Customize colors and high contrasts more easily with One UI 2. The new generation of refined keyboards enhances visibility and increases sharpness.
Entertainment Privileges YouTube Premium
YouTube Premium and Galaxy give you the chance to enjoy your favorite YouTube quality content. Enjoy ad-free, offline viewing, and Background Play on YouTube and YouTube Music for the first 4 months of your Galaxy Tab S6 Lite purchase.
Lively With Personalized Music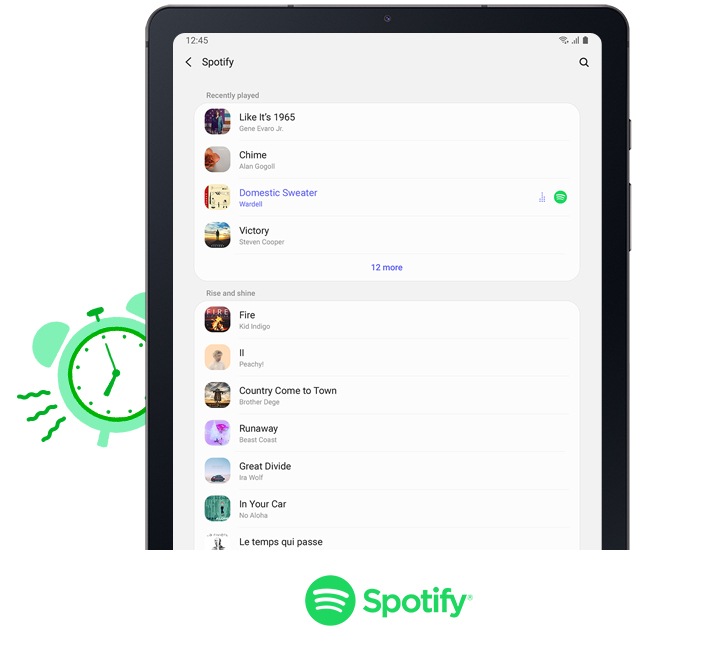 Enjoy your own favorite music with Spotify. Quickly search for any song from a Finder window and tweak playlists in multiple ways with the Spotify app on Galaxy.
And so that's the real Galaxy Tab S6 Lite Review that you want to buy it or follow more product lines, don't forget to follow other interesting articles!
Read More:
Galaxy Tab S7 Wi-Fi | S7+ Review