After 2 weeks of practical experience, it can be said that the Samsung Galaxy A50 brings many surprises when it is only a mid-range smartphone but converges many elements of the high-end segment and above.
According to AhubReviews.com's assessment, the Samsung Galaxy A50 has advantages including luxurious design, excellent content display, clear camera, especiallG integrated fingerprint sensor under the screen, which is very popular right now.
Quick Review of Samsung Samsung Galaxy A50 After Experiencing 2 Weeks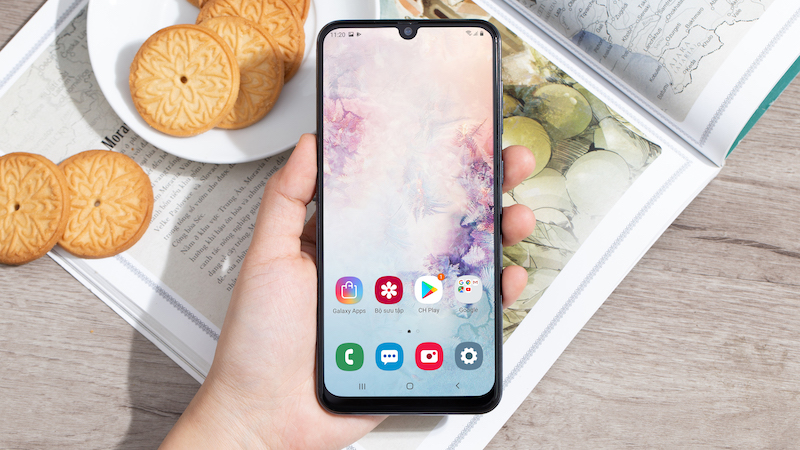 After two weeks of actual use, we are really satisfied with the Samsung Galaxy A50 for its high-end features and interesting experiences from the mid-range "super product" from the Samsung brand that has brought in the past few days.
Vivid Edge-To-Edge Screen With Unique Screen Fingerprint In The Segment
Like many users who do not like big screen phones, I also choose the Samsung Galaxy A50 because of the Infinity-U overflow screen design with very thin bezels. When combined with the back cover covered with gradient paint, the color will change according to the viewing angle as well as the light intensity, the exterior design of the Samsung Galaxy A50 will become even more luxurious and sophisticated like the flagship line.
More importantly, Samsung Galaxy A50 owns a high-end Super AMOLED screen, a large size of 6.4 inches with a resolution of up to 2,340 x 1,080 pixels, a ratio of 19: 5: 9 to help display large and clear content. sharp, vivid colors, wide viewing angle and high brightness. With really "delicious" screen parameters in the price range, I often use the Samsung Galaxy A50 to read news, surf the web, use two applications at the same time with the split screen feature and for basic tasks. other.
Thanks to the use of Super AMOLED technology, the Samsung Galaxy A50 is a movie projector with a very deep black range, which is easy to enlarge and fill the screen like a wide screen.
Most users, including myself, still often have the habit of placing the phone on the table when focusing on working on the computer or when engrossed in sitting on the sofa watching TV. When receiving a message or email notification, we often have to pick up the phone, then put our finger in the fingerprint sensor position on the back of the device or enter the pin code, draw a pattern … on the screen to unlock then just read the content.
Like many other high-end phones, the Samsung Galaxy A50 also has a built-in fingerprint sensor under the screen to help you unlock the device in an instant, no need to spend time entering passwords, pin codes, and patterns. … as before. For those of you who are "goldfish brains" who often forget passwords, Samsung Galaxy A50 will definitely be the most valuable smartphone today because the unlocking operation is so simple and convenient.
The Three Cameras Are Pretty Good Quality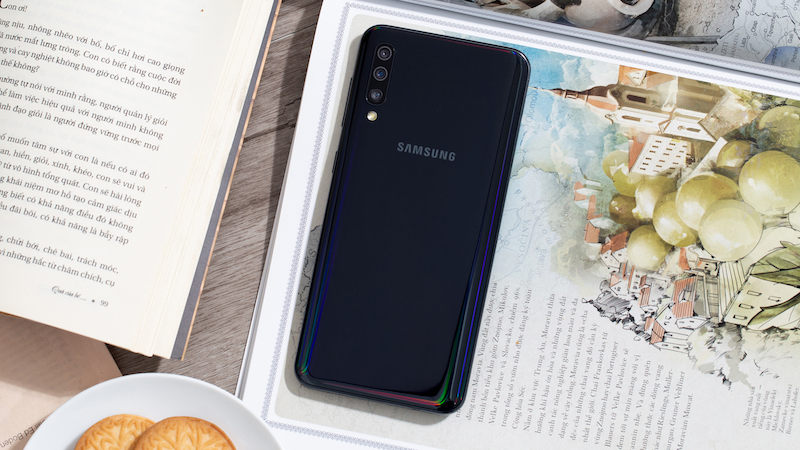 It has a 25MP main camera + 8MP ultra-wide angle camera + 5MP secondary camera for measuring the depth of field, integrating artificial intelligence (AI) and optimal image processing algorithms. In addition, the Samsung Galaxy A50 also allows for fast focusing on the subject, taking and saving photos. This is the reason why I and many other brothers and sisters who have the same passion for photography with mobile devices love the Samsung Galaxy A50.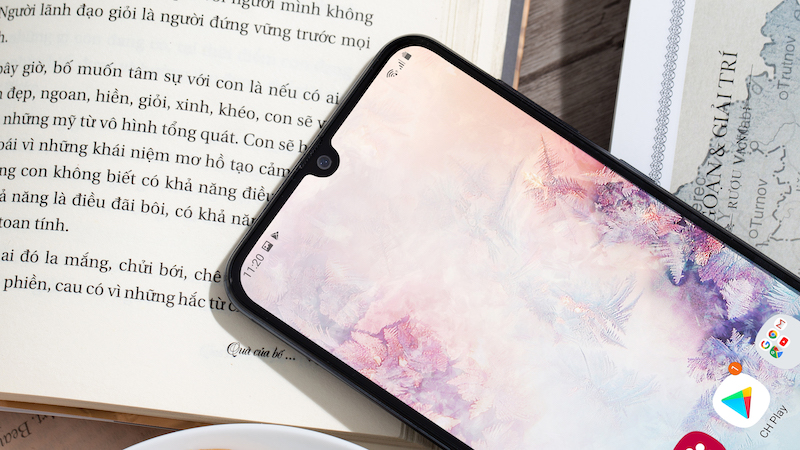 Thanks to the 25MP main camera with an aperture of up to f/1.7, the Samsung Galaxy A50 easily produces clear photos in both low light, bright or backlit conditions and at night. As for the Samsung Galaxy A50, I just need to take pictures in the most common way and have a beautiful photo right away, without editing and post-production of photos, confidently posting pictures on Facebook to show off to friends and relatives. I also often use the Samsung Galaxy A50 to quickly capture important content in a meeting, especially at times when I can't take notes.
Whenever I travel, I don't need to "carry" with a bulky DSLR camera, just take out each Samsung Galaxy A50 to take a photo and get beautiful photos right away. Of course, comparing a DSLR with a phone camera is very unreasonable, but for basic needs, carrying a Samsung Galaxy A50 is enough for you to get good "shots" of photos instead of having to carry a full set of heavy cameras. masonry.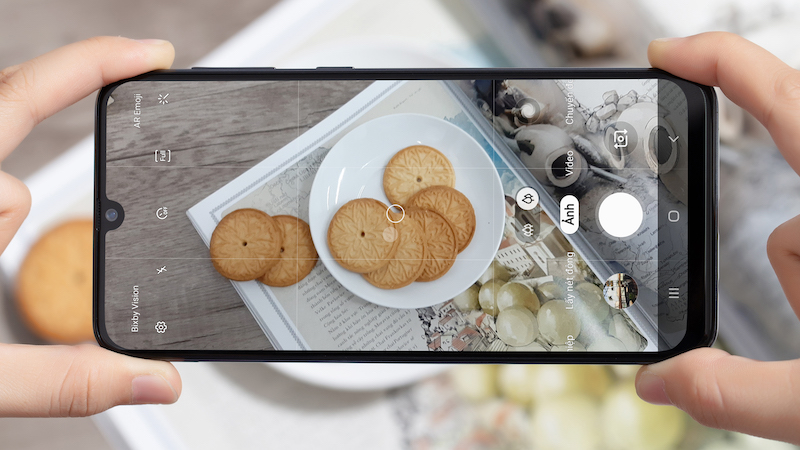 For large scenes, I will prioritize shooting with the 8MP camera with an ultra-wide angle of up to 123 degrees. No need to step back far, I just need to align the shooting angle, easily "capture" the entire large scene with just one shot. This is also really convenient when taking group photos because no one will be missed. Photos taken with the ultra-wide-angle camera also bring a new and interesting perspective.
When combining the 5MP secondary camera with Live Focus mode with Art Bokeh, the Samsung Galaxy A50 will give the ability to take professional photos to remove fonts. For those who are not as knowledgeable about Photoshop as I am, the Samsung Galaxy A50 produces photos taken with outstanding subjects, the background to remove the background is shimmering with user-configured bokeh effects, which will be even more amazing. ever.
Perfect Performance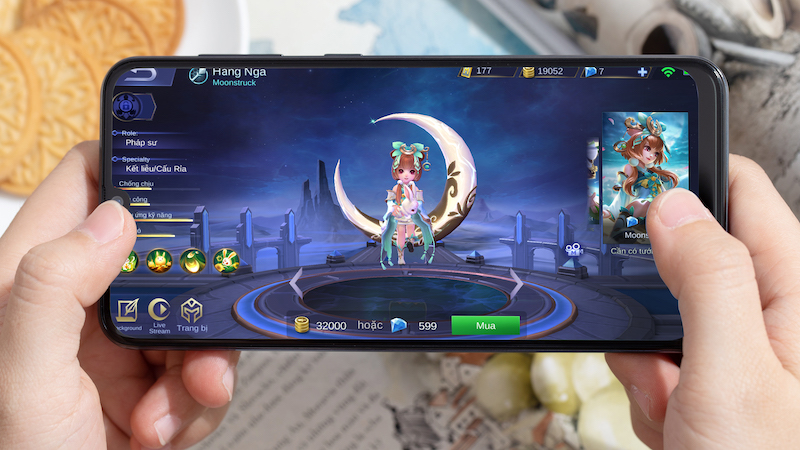 I also have praise for the Samsung Galaxy A50 for its powerful performance. Because, Samsung Galaxy A50 is equipped with Exynos 9610 processor manufactured by advanced 10nm technology process, built-in Game Launcher to help smooth play all 3D games that always require "terrible" configuration, such as Asphalt 9, PUBG… absolutely no lag. The device has 4GB RAM, combined with Android 9 Pie operating system and the latest One UI customization interface, which will help the multitasking mechanism work better, comfortably run many applications at the same time.
Battery
Although the body is only 7.7mm thin, the Samsung Galaxy A50 still owns a battery capacity of up to 4,000mAh for actual usage time longer than 2 days for basic tasks. In addition, the device also supports fast charging technology to significantly shorten the waiting time to fully charge the 4,000mAh battery. Besides, I and many other Samsung users also receive many other exclusive offers from Galaxy Gifts, including: shopping, beauty, food and services.
After two weeks of practical experience, we feel very satisfied with the Samsung Galaxy A50 both in terms of its luxurious design, high-end features, powerful performance, smooth task handling, impressively long battery life, camera take photos of "heavy" in the price range. In general, Samsung has been very favorable to users when it launched the excellent "super product" Samsung Galaxy A50 in the price range, bringing new and high-end experiences, almost no other mid-range phone can be found comparable.
And so that's the real Samsung Galaxy A50 Review that you want to buy it or follow more product lines, don't forget to follow other interesting articles!
Read More:
Samsung Galaxy S10 Lite vs Note 10 Lite Which Is Better?
Galaxy Tab 3V and impressive highlights in the mid-range segment
Great Experiences Available On Samsung Galaxy S10 Lite Review